Why Are There Water Stains on Your Tub and Tile?
Water that is treated before it reaches your home is stripped of dangerous contaminants. Many microscopic particles still remain behind, and when they enter your home and sit trapped in a hot water heater can cause a chemical reaction that leads to those stains on the tub and tiles. Being informed will help you to not only clean those stains more easily, you will be in the position to reduce the stains from forming in the first place.
What Happens in My Home to Cause This?
When treated water makes it to your home, water is stored inside the hot water heater so that when you need to use hot water it is instantly ready. During the day and not that hot water just sits inside the tank, coming in contact with the aging walls of that metal tank. Corrosion, sediment buildup, and other contaminants cause the water to turn a brownish color, resulting in the water on the tub and tiles to cause a stain. Each day the stains get darker and harder to remove.
Is There a Cause I Can Address?
Absolutely you can address this issue. The first thing you can do is drain the water heater of all those sediments. Attach a hose to the valve in the front of the water heater, run the other end to the street, open the valve and let the water drain out. Close the valve, remove the hose, and let the tank fill up again. Additionally you could ask a local plumbing repair company to give you information on whole-house water treatment systems. They will help to eliminate those particles from getting into the water heater tank in the first place and provide you much cleaner water in the home.
How Can You Remove Them?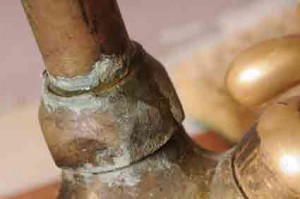 Forget about all those cleaning chemicals that are full of toxic ingredients, you only need a clean soft sponge and a bottle of white vinegar to clean the stains from around the bathroom. Scrub the walls of the shower and the tub, then remove the shower head and let it soak in a bowl full of vinegar. The following day you can use a small toothbrush to remove the sediment trapped inside the little jets of the shower head. Your water pressure will be more powerful, your shower will be cleaner, and the stains will suddenly start to disappear.
Hard water stains in your Montgomery home can easily be fixed with a water softening system. Call Cole Plumbing Inc. at 708-754-5151 for help!