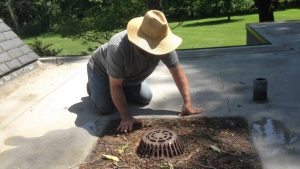 Buildings constructed in the 1970's and earlier incorporated the use of either clay or iron roof drainpipes. They happen to be two materials that have a relatively short lifespan as far as construction materials are concerned. While clay tends to crack and break, iron is known to rust and eventually rot. Neither scenario is favorable to an efficient, and long-term property maintenance schedule. Having your plumbing contractor on speed dial in order to make continuous repairs simply does not make good dollars and sense. A complete overhaul or replacement of the system requires a major renovation.
Pipes that are located within walls, foundations, and even underground must be exposed. That means that anything covering them needs to be ripped out including ceiling, walls, floors, concrete slabs, concrete foundation walls, and of course exterior ground landscaping. You must factor in the roof drainpipe replacement costs along with demolition, and the price of putting everything back together. Not to mention the major disruption to tenants. If you happen to be a property owner that is facing expensive roof drain repairs there is a far less invasive solution that will fix the problem once and for all without breaking the bank.
Roof drain lining in Montgomery, Alabama provides property owners with a cost effective method to fix the problem for the long term without the need to rip apart the building. In essence, the new lining allows the old pipes to not only work properly, but to stand the test of time as well. Once the procedure is complete you will no longer need to worry about any issues regarding the roof drainage system. At least you will be able to cross one item off of that long, and never ending list. At this point you must be wondering how the roof drain lining process works.
The broken or corroded roof drain pipes are easily accessed through an entry point. They are lined with a special material that is saturate with an epoxy resin. This special material is actually applied to the interior of the pipes while in a soft state. Within three to four hours of application the epoxy coating hardens inside the walls of the existing pipe. Once the epoxy fully cures it will seal any breaks, corrosion, cracks, or leaks within the pipe. The new lining completely restores the structural integrity to the old pipe. In addition it acts as an impenetrable safeguard against any further damage from the elements, and or corrosion.
The new roof drain lining should extend the life of the pipes by an additional fifty years or so. By the time they need to be repaired again it will most likely be someone else's problem to deal with. The new inner lining reduces the existing pipe's diameter anywhere from three to five-percent. This slight reduction still allows for plenty of room for water flow. Roof drain lining is a repair method that is significantly faster, far less expensive, and of course will last longer than the outdated, more traditional techniques. It is perfect for building owners that realize the value of a non-invasive, cost effective, and fairly permanent solution.
Cole Plumbing is a leader in the plumbing industry. We pride ourselves on providing our valued customers in Montgomery and surrounding areas with the most innovative, timely, and cost effective solutions. Our team of experienced technicians is highly trained in the latest roof drain lining technologies. Now in our third generation, we have been a family owned and operated business since 1977. Please contact us today for all of your plumbing and bathroom remodeling projects. We look forward to working with you.