10 Ways to Upgrade the Look And Feel of Your Bathroom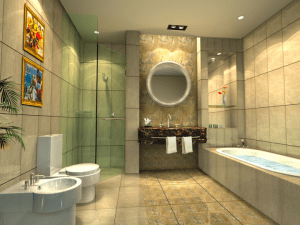 The bathroom is probably the most important and sensitive part of the house, as most of the home cleaning up take place there.
After the bathroom has been in use for a number of years, most parts begin getting old and start wearing out and thus the need for repair. Are you planning to remodel your bathroom? Continue reading to learn more about how to go about it.
Cost of the Project
Knowing the cost of remodeling your bathroom is important, and a budget for the project has to be set. After coming up a budget, consult an expert for advice on how much money you need to set aside or you can afford for the remodeling. Below are pocket-friendly remodeling tips:
Instead of replacing the bathtubs and sinks, think about renovating them. This leaves them looking new and will cost 90 percent less than installing new structures.

Don't move any structure that involves the plumbing. For instance, moving the sink from one corner of the room to the other may seem like a very simple thing. However, the infrastructural changes that will be made to the plumbing will cost a lot.

Repaint the bathroom with brighter colors.

Replace old towels and floor mats with new colorful ones.

Build shelves for keeping clean towels, soaps, and tissues.

Install new rings and a new shower curtain.

Give the cabinets a touch of class by installing fine doorknobs.

Installing mirrors is a good plan.

Go for a toilet that will not use a lot of water.

Replacing the old shower heads with new ones that have low water consumption will be great.
The Project's Quality
A remodeling expert does a nice job and small things usually have an impact in the bathroom remodeling like changing old shower heads with new and shining ones, and this improves the bathrooms look. Cleaning the tiles is an added advantage for your bathroom, and there will be no need to replace the floor. Give your bathroom a nice smell by using scented candles.
The Project's Duration
The remodeling expert should be able to tell you the exact number of days the project will take so that you can prepare yourself and not be inconvenienced in any way.
By following the above tips for your bathroom's remodeling, good results will be achieved, and no regrets.
Let our team help you design the bathroom of your dreams. Call Cole Plumbing at (334) 279-8919 for exceptional service in the Montgomery area.