How and Why You Should Repipe Your Home
How Do I Know If I Need to Repipe My Home?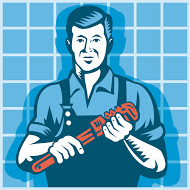 Is your home "older"? Has it been through multiple owners? Maybe it's seen some renovation somewhere in its history? You're wondering about the integrity of the systems behind your walls? Or worse yet, you're already experiencing problems. We can help with our repiping services.
Leaking – If you're piping is made of copper, you may be experiencing leaks due to your water's chemical composition. Some water can be particularly harsh and can, over time, eat away your copper. Contingent on how virulent your water' makeup is, you may have thinning pipe walls, making leaks common and a repipe unavoidable.

Leaching harmful chemicals – Galvanized piping was once thought to be rust resistant, however it turns out to rust very easily. Replacement of galvanized piping is essential. If you have galvanized piping you most certainly have rust in your pipes and it's not healthy to be drinking water from rusty pipes.
How Long Will It Take?
Once you've decided you to fix your pipes, there's a selection of repiping choices; replacing everything with new copper piping, replacing it all with a plastic product know as PEX or coating the inside of the existing lines with a pipe lining product. Considering the size of your home, any of these options can be completed in 1 to 3 working days.
Replacing your old lines with new copper is certainly the most effective means of fixing things and ensuring it'll stay fixed and most companies offer a 50+ year warranty. The next option is replacing all your pipes with a plastic piping product known as PEX. The last option is coating the inside of your existing lines with an inner piping. Many companies will also give a 50+ year warranty on this job. It's a good quality product and very cost effective. This option causes your pipes to be a fraction of an inch smaller with negligible effects.
Why Should My Regular Plumber Do the Job?
Your regular plumber will have plenty of experience with replacing pipes. You'll need someone with experience and specialization, someone with an understanding of how your home was built to be able to see the big picture throughout the job.
Want to repipe your Montgomery home? Call Cole Plumbing at (334) 279-8919 today and get the job done with our services!