Benefits Of Having a Tankless Water Heater In Your Home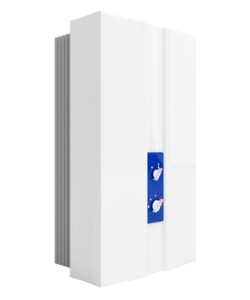 Homeowners who are thinking about replacing a water heater may want to consider going tankless. A tankless model allows for showering, dishwashing and other hot water activities to occur simultaneously. This is possible because a tankless model will heat water as it is needed, rather than storing it and needing to replace it later on.
[Aside from always having hot water ready to go, tankless models can reduce energy costs by up to 20 percent, which makes them economically friendly and easy on the environment.]1 While the initial cost is higher than that of a standard water heater, tankless models pay for themselves over the long term. Installing a tankless heater will add value to a home and bring a higher price if the owner decides to sell at a later time.
Another benefit of going tankless is durability.[A tankless model has nearly twice the lifespan of a conventional water heater, as the tank is the part that usually causes problems.]1 When a tank goes bad, the entire water heater must be replaced right away. Not using a tank eliminates that issue, including the possibility of water damage if a tank ruptures, which can run into many thousands of dollars.
Tankless heaters offer the advantage of installation anywhere, even on the outside of a home. The settings can be changed with a remote control and completely customized to the particular needs of a household. Dedicated tankless heaters can be installed to accomodate individual appliances. A traditional water heater allows only for changes in temperature and is generally limited to one per house.
Tankless water heaters are a great way to go green, save energy and always have plenty of hot water when it is needed. Homeowners who are interested in this technology should contact a local plumber for more information.
**Are you looking to install a new tankless water heater in your Montgomery home? Call Cole Plumbing at (334) 279-8919) and get started today!